Discover Homair Vacances
Here at Homair Vacances, your happiness and well-being count above all else, which is why our functional and well laid-out accommodation options offer everything you need in the way of comfort and privacy. Open the door to your new holiday "home" and discover a space in which everything has been designed to ensure that you are free to enjoy that dream open-air holiday you've been looking forward to!
And if you want to share an experience with a difference together, we also have a selection of equally cosy and comfortable out-of-the-ordinary accommodation options to choose from.
Our accommodation is ready and waiting for you and comes with access to a complete range of facilities and amenities – because every little detail counts. Crockery and cutlery, kitchen utensils, pillows, duvets: each room has been designed with optimal comfort in mind. And if you want to add any optional extras such as air-conditioning, Wi-Fi, a baby kit or bedding, you're completely free to do this at time of booking.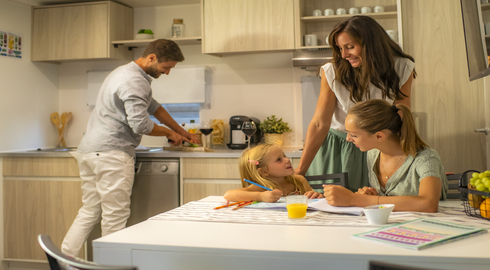 Fully equipped holiday accommodation
Looking to get away and enjoy the open air but without compromising on comfort? You'll be able to find just what you need amongst our wide range of accommodation options. All our mobile homes are fully equipped to ensure a completely easy, relaxed and stress-free holiday. Fitted kitchen, domestic appliances, bedding, cleverly designed storage spaces… Nothing is left to chance at Homair Vacances!
And for those looking for something extra, our Premium accommodation comes with a range of unique supplementary services offering incomparable levels of comfort.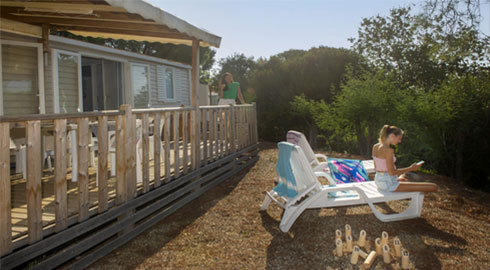 Time completely to yourselves
Our mobile homes are each set on their own private plot, providing you with a genuine additional living space for your own exclusive use. You'll be able to completely relax as if you're in your own home and fully enjoy those beautiful summer evenings without having to worry about your neighbours. The shaded terrace will protect you from the sun and any rain that happens to fall, enabling you to fully make the most of your holiday rental.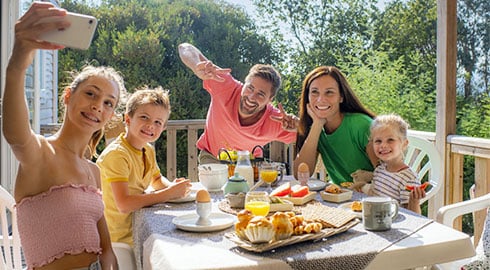 Delightful moments to share together
Whether you're planning a holiday as a couple, as a family or with friends, our mobile homes are ready and waiting! We have options ranging from two to four bedrooms in size, with some of our accommodation able to sleep up to 10 people. Functional, practical and perfectly laid out, the various rooms and spaces of our mobile homes have each been designed to leave you free to concentrate exclusively on enjoying yourself. Waterpark, sporting activities, family games, themed evenings… Our teams are there to look after you throughout your stay!